AudioConnect 2 and AmpConnect 621 use the same program to update their firmware, "AC2_AC621_Firmware_Updater" which is linked at the bottom of this article. This program only runs on Windows. If you are using AudioConnect 2 or AmpConnect 621 on macOS, it must be moved to a Windows machine to update the firmware and then can be moved back to macOS.
1. Download and unzip "AC2_AC621_Firmware_Updater" linked at the bottom of this article
2. Connect your audio interface to the computer and make sure it is powered on. SoundCheck can be closed.
3. Run "AeveeUsbAudioDfu.exe" from the unzipped "AC2_AC621_Firmware_Updater" folder. Your device should be identified at the top.
4. Browse to the *.bin file for either the AC2 or AC621 and press start
5. A message will say the firmware has successfully updated. Exit the application.
6. Power cycle the unit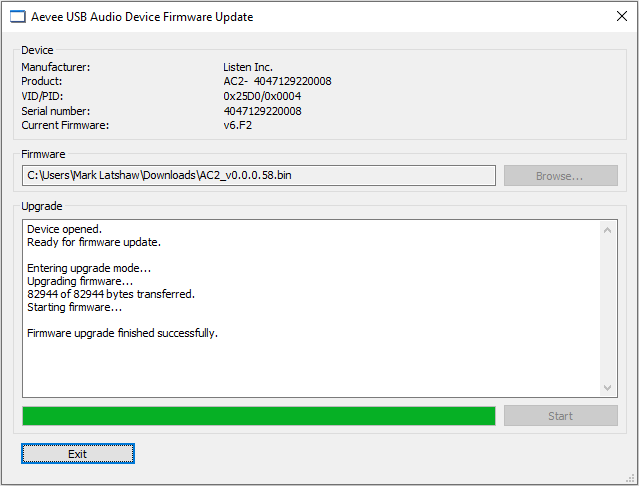 Open SoundCheck and in Setup > Hardware, click refresh. The Listen Hardware tab should show the new firmware has been loaded onto the audio interface.